EDEN™ TLIF PEEK Cage
Spinal Cage
Description
– EDEN™ TLIF PEEK Cage is used to treat structural abnormalities stemmed from degenerative intervetbral disc.
– EDEN™ TLIF PEEK Cage is implanted between vertebrae(bone) or intervertebral space(between implantable bone) whilst it secures stability or provides ample space so that interbody fusion is accomplished.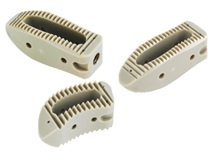 For further detailed specifications, please email us at jmtexim@jmtmed.com to provide catalogues.
This product is medical device.
Users must be acquainted with the manual as well as the cautions on use.