EDEN™ ACIF PEEK Cage
Spinal Cage
Description
– EDEN™ ACIF PEEK Cage design combines anatomical shape and serrated surface to ensure outstanding stability and proper fusion conditions, offering the user a better concept for maintaining inter-vertebral space.
– EDEN™ Cervical PEEK Cage consists of PEEK material, providing excellent durability and flexibility as well as high level of biocompatibility needed for long-term implantation in the body.
– The Cages are fitted with spikes made of Tantalum alloy for extra stability, as well as with markers for checking the postoperative position.
– Fitted inserter(Demineralized Bone Matrix) can be supplied by customer's choice.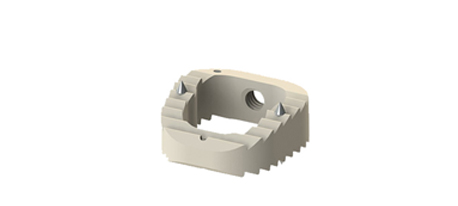 Indication
– Intervertebral disc prolapse
– Degenerative disc disease
– Degenerative instability of cervical spine
– Spinal canal stenosis
For further detailed specifications, please email us at jmtexim@jmtmed.com to provide catalogues.
This product is medical device.
Users must be acquainted with the manual as well as the cautions on use.